What: The choices for brands looking to engage in soccer in North America are vastly different than five years ago.
Why it matters: Soccer in North America is a business not just worth watching but engaging in as an emerging market, with the region seen as an emerging market in the sport.
There is no doubt that over almost a quarter century, Major League Soccer (@MLS) has built a North American brand that has elite status, proactive marketing, a young, engaged fan base and a diverse and growing ownership group that has put professional soccer not just on the map, but into the fabric of professional sports fandom.
Over that time the interest from the professional level to the grassroots in playing and engaging in soccer has risen on a path in North America that is even beyond the growth level of MLS as a property, something which many diehards had hoped for but sometimes not thought possible in the years prior to MLS launch and subsequent expansion as a property.
However with the meteoric growth of the MLS brand, and its clubs, athletes, coaches and partners, has come the realization by many of the elite clubs of the world that soccer in North America is a business not just worth watching but engaging in as an emerging market. North America as an emerging market in anything may literally seem foreign to many, but in the case of some global sports; not just soccer but sports like rugby and even in some isolated areas cricket, the market for monetization, and even expansion is more fertile than anywhere else on the planet that's not China, and even China, in terms of commercial interests in sports business, in many ways cannot trump what North America can for now.
…[I]f you want to sell product and grow consistently in key markets in soccer, you look to MLS as your partner here. It all comes down to where you want to spend and how.
In the eye of that growth area is also the sexy baubles of demos that brands, and teams, want: rising numbers of Latino fans, more engagement with women, and even a growth to be the choice of millennials who now have more discretionary income, and soccer, as MLS can attest to with the largest growth numbers in each of those categories for sports leagues, can talk to all of those more than most other professional sports in North America.
So if you are a brand, one with solid budgets, a look to engage wide audiences in all forms of media as well as at the grassroots activation level, and you want to make a big impact with a push towards a measurable ROI, and you also want to make sure you take care of your North American interests, you may pick soccer as your "all in sport," right? The trends are going that way. But would you pick MLS? Maybe yes, maybe no, it depends on your scope.
The reason why you could look to soccer, or football, is that the marketplace today in North America has changed drastically in the past five years as the elite clubs, and leagues, of the world have put down roots and are looking to import their brand and experience and expertise into North America more than ever before.
Subscribe to Portada's weekly Sports Marketing Updates!
How and why? The why is pretty simple. A marketplace that is more savvy and more engaged in all things soccer than ever before. How? First start with media. NBC's pioneering coverage of the Premier League (@premierleague), finding a live home for the EPL that became acceptable to fans on Sunday mornings, combined with ancillary programming both online and on broadcast, created the perfect test case to show that live soccer had an audience. That opened the door for other elite leagues to expand broadcast offerings with everyone from Fox to Turner to beIN to ESPN to Univision and Telemundo, and the ability to watch your favorite clubs, the most elite soccer stars of the world in real time without having to search out a pub or a small supporters group, made the best soccer in the world easy to find.
Then you lop on the move to digital and streaming not just by broadcast outlets but by other platforms (Bleacher Report Live, ESPN +, Eleven Sports), and suddenly you could almost find any club available on any device. This helped growth of soccer among a mobile friendly audience, especially down to the grassroots level, and also renewed easier alliance with the new immigrant, who craved soccer and the loyalty to his or her home club, and could now watch that club easily in their adopted home.
The explosion and availability of merchandise for global clubs also fueled the brand fire, with families getting access to club kits from around the world, and those kits became part of school apparel for boys and girls laying the game in cities big and small. You also lay on top of all of that access the influx of ownership dollars into elite global clubs by deep pocketed American owners, and the connection between clubs once far away and the suburban living room was easier once again.
Next step, as mentioned earlier, is the elite clubs and leagues of the world tracking fan loyalty in the digital space and seeing the opportunity for sales and brand growth in a country where they were not playing games, but where fans were watching and engaging. Into that mix came a number of clubs; most notable was FC Bayern Munich (@FCBayernUS), who enacted a very savvy supporters group campaign run through social media, whereby local fans could build their own sanctioned clubs.
The plan, which was well in advance of the clubs US tour, gave Bayern a leg up on local loyalty and set the way for what is arguably the most effective local supporter network for a non US team of any kind in North America, with followers of various sizes in every state in the U.S. and most Canadian provinces. That helped show the opportunistic door for what clubs, and leagues could do in North America, and really set the stage for anywhere from 10 to 12 non US soccer clubs setting down stakes in North America in the past few years, including the teams that have US owners.
With all that as the backdrop, the opportunities and choices for brands now looking to engage has changed a great deal, and presents some really unique challenges or opportunities. There was time not too long ago, when Coke (@CocaCola), a longtime World Cup sponsor, and Ford (@Ford) and Chevrolet (@chevrolet), two dyed in the wool American brands, took on new sponsorship deals in the Premier League. Those were seen as game changing for their non U.S. scope. Today, the ability to engage with soccer fans around the world has made elite clubs even more attractive to US brands for activation, in part because of the deeper roots that the biggest clubs of the world, from Barcelona to Chelsea to Roma to Bayern, have planted on North American soil, and their ability to deliver ROI in the States, through media partnerships, through social, and culminating when the clubs play matches in the States on summer tours, that was not as realistic even five years ago.
That does not mean that the option of MLS, or even the U.S. Women's National team this summer for World Cup, is less strong for brands, especially those hyper focused on local markets and on the North American footprint primarily, it just presents more options and choices today.
What Are the Differences and the Advantages?
"With La Liga (@LaLigaEN) having a bigger presence in the U.S. now, our offering is much more than it could have been a few years ago," said Rebeca Díaz González (@rebsdg), who leads international business development for La Liga in the U.S. "We have what we think is really a compelling offering to bring to U.S. businesses in soccer: premium association of two of the big sports brands in the world in Real Madrid and FC Barcelona (as well as the other clubs of La Liga), an association with the best players and some of the most recognizable faces in sport, an eight month long advertising property that runs from August to March (keeping in mind the MLS season is virtually opposite of that), customization in content creation for U.S. partners (content, academies, media assets, activations and grassroots properties), and the cultivation of a young and diverse soccer fan base in the U.S. that appreciates the high level of play of La Liga. All of that makes us really well positioned to take advantages of opportunities here and into the future, and that's very exciting for us."
From a club level, FC Bayern Munich saw early on the advantage they had with companies like Audi (@Audi), Adidas (@adidas), T-Mobile (@TMobile) and Allianz (@Allianz), as well as a partner in Qatar Airways (@qatarairways) that had its own agenda for U.S, growth. They leveraged those brand partnerships that had U.S. ties and marketing budgets (some of which, like Audi and Adidas, were already spending in the U.S. with MLS) to create programs that catapulted the visibility of FCB, not just to fans, but to casual consumers who were enjoying soccer but were not yet aware of the Bayern story.
"When FC Bayern came to the U.S. our aim was to grow the fan base in the Americas, form mutually beneficial partnerships and help to grow the sport of soccer on and off the field," added Rudolf Vidal, President Americas, FC Bayern München. "After five very successful years, FC Bayern can now talk extensively about our reach, engagement and activation in the Americas as well as Europe and Asia highlighting the club's global appeal. "Since 2014, the club's following has almost tripled from 13M to 32M followers. We started with eight official fan clubs and now we have 147 fan clubs in 49 states. We have signed seven North American based partners as well as forming media partnerships with ESPN, FOX, Goal.com and Univision. Our growth in North America is extremely valuable to our internationalization strategy and is consistent with our club values…responsibility, partnership and innovation."
Vidal's statements and scope echo the excitement of many clubs who see the U.S. as very fertile ground for growth. However not being in market with teams (the rare crossover ownership groups include City Football Club, whose global ownership presence and brand influence ties together nicely with NYCFC (@NYCFC) of MLS and Manchester City (@ManCity)) still gives MLS a distinct advantage for brands that cannot simply be equalized with big name stars and elite brands.
MLS vs. the World
"With MLS as a brand you are buying that national presence with a very passionate local following, and that's very important when you look at your budget and your return," added Tony Ponturo (@ponturo), who for over 30 years built and grew the sports marketing platform of Anheuser Busch and now works on the consulting side for Turnkey Intelligence. "Manchester United, Real Madrid are global buys way beyond soccer, but if you want to sell product and grow consistently in key markets in soccer, you look to MLS as your partner here. It all comes down to where you want to spend and how."
"We are always aware of competition from all forms of entertainment, not just soccer," added MLS SVP of Partnership Marketing Jen Cramer. "When brands look for consistent, proactive partnership activation in soccer in the U.S., we are able to create an opportunity that reaches millions and is very customized to what their needs are. We live and breathe soccer in the North America all year round, and we know that what we offer for partners of all sizes, be they club sponsorships or as a league partner, really drive ROI. Our record speaks for itself, and we are both proud and excited about what the future holds."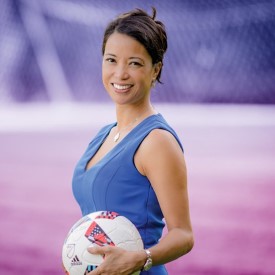 So is there a decision on where and when brands will spend, if they are steeped in American business? "Global football clubs bring with them the eyes of the world, and with that comes a big price tag," added Chris Lencheski, a longtime sports marketer now teaching at Columbia University. "There are brands that can choose to go that route, and now you will see a bigger return in the U.S. because of the visibility of those clubs with media, social play, and as time permits, local summer tours. However as a market that is still growing, MLS continues to have the position of a cost effective, proactive property that gives you a return in very specific cities that you can tailor to. That also does not include the spends you can do around clubs in fervent markets like New York and L.A. and Atlanta and Portland and Seattle. There you can also take advantage of spends and exposure that can nicely complement all you are doing elsewhere. It's not an easy balance, but it comes down to how and where you see your brand succeeding and there are pluses and minutes to both. It's certainly does not have to be one or the other."
The Pool Remains Deep and Very Wide for Brands
The good news is that for brands looking to activate in North America the choices are pretty vast, and are more unique than ever before. Do you want the allegiance of a global club with a footprint that resonates well beyond the shores? There are clubs, and even leagues, with offices here to talk to. Do you want to be hyper focused on the Americas, including Liga MX, that option exists and is growing. Do you want a hybrid? You can create that as well. It certainly is not an easy choice, but it is a buyers market, and the market is well stocked and growing it seems, each week.
[ctalatinb_es]