Portada picked Andy Berman's brain to find out the history, tips, and insights behind Global Mind's meteoric rise to advertising fame.
From Analog to Digital: A Mindframe for Radical Changes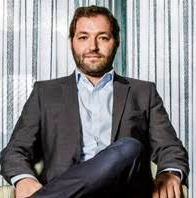 Andy Berman considers himself lucky to have been born in his time. Like many of us, he got to live through one of the most powerful social phenomena in humanity: the world's transition from analog to digital. "Technology came early into my life. I experienced the first signs of change when I was a teenager. I remember my parents buying me my first console, the Atari. Then the Commodore 64, the Amiga, the 128, then the PC XT… Thing is, I learned through change.". With each bold innovation, Berman was learning to adapt, evolve, and understand technology like a true native.
But how did these experiences help him lead his company through great change and disruption? "Along with progress, I saw lots of people and lots of companies crash and burn", says Berman. "But you learn from everything, and then you put it to use for your benefit." And so, and old-school computer geek and his hunger for innovation helped create a full-service, cross channel advertising agency for the future.
The Digital Way or the Highway
Berman had a clear vision from the very beginning. Almost twenty years ago, the internet was barely moving from the dial-up modem to broadband connections. Owning a home PC still felt sci-fi. TV was the undisputed king of media. But pushing into the future, Global Mind's DNA has been digital since Andy Berman conceived it in 2001. "We were doing digital when digital didn't matter to anyone. For us, it was everything. For the other big agencies, it was nothing but a tiny slice of the advertising cake. So, we became a white-level agency for others for a long time. We gained so much knowledge of the digital world until the same agencies that shunned digital saw the cake was getting bigger", explains Berman.
We were doing digital when digital didn't matter to anyone. For us, it was everything.
However, as soon as companies realized the massive hit they were missing, they started putting together their own in-house advertising teams, fast. Former clients were now "making their own cake", so to speak, and Berman's business took a hit.
In order to stay relevant, Global Mind faced its first major change of direction. The company took a leap of faith and started looking for direct clients instead of performing from behind the curtain. "For ten years, we always had direct customers, but it was never our main business. However, we had a strong regional footprint and we went for it. Our track record of having been white-level for so many agencies made customers trust our services", explains Berman.
The brave and timely switch of business models worked, big time. "We expanded from Argentina to Toronto, then to Mexico, Colombia, and the US", recalls Berman. And the success went on for years, until they became the biggest independent players in Latin America. But then, at the top of their game, came yet another wave of change. Sometimes the only way of growing is becoming a link on a stronger chain.
An Offer You Cannot Refuse
The Dentsu Aegis Network derives around 60% of its revenue from digital activity across 143 markets. The international giant purchased Global Minds in July 2018. Andy Berman didn't hesitate when offered the opportunity. He knew that great power would also bring great technology. This made the decision a no-brainer. "Dentsu had the technology we didn't have; whatever we had was sourced by Google. We sold our company knowing we'd be getting all those benefits, and access to all that data. So we brought together the best of two worlds: an agency with know-how that works well and a global giant with all the technology. We used to be the biggest independent agency in our region, except for Brazil. Now, we're part of the big six".
We brought together the best of two worlds. […] We used to be the biggest independent agency except for Brazil. Now we're part of the big six. 
And if they'd never been purchased by Dentsu? Would that have made a difference? "We would've had to make a tremendous investment to get the same technology now available to us", replies Berman. "Otherwise, we wouldn't have been able to offer the high-quality service expected from a global agency". Simply put, either you keep up or you die. But you always move forward.
Andy Berman's Five Golden Rules for a Media Agency
According to Andy Berman, these are the tenets of a successful media agency. Missing just one of these would mean putting your agency at a dire risk of obsolescence. Follow purposefully:
Take good care of your staff. Choose them well and listen to their needs. "We still have employees from the first day the company started. Loyalty is the result of taking good care of your employees", says Berman. So keep them happy and motivated and they'll be there through thick and thin.
Constantly invest in your business. "Challenges are everywhere. Global Minds was founded twenty years ago, and the digital landscape has now changed entirely. We had to invest, change, do a bunch of things to keep up". There's no progress without investment, so be generous with your own company.
Fail fast, mend immediately. "You need to try, experiment and do it faster than anyone else. But when you've made a mistake, don't dwell on it. Pick up and learn as much from it as you can". Err constantly, but wisely.
Don't follow trends, set them. "We were one of the first agencies to do regional searches, the first to try to get mobile when everyone else thought we were foolishly wasting money". Trends might be volatile, but so is the market.
Create specialized divisions. Always assign the right task to the right person. "We were one of the first agencies to have a Mobile Media Director. Over the course of 20 years we've had a bunch of directors for different things. When something very disruptive comes along, you have to hire someone who knows who to drive that disruption from within the agency". Without someone fully developing new technologies, the staff would just be grasping at a straw they don't fully comprehend.