AcuityAds Acquires Visible Measures for US $10 million
What:AcuityAds will acquire 100% of Visible Measures' outstanding common stock in exchange for cash in the amount of USD$10 million.  It is expected that this transaction will be completed on or about March 31, 2017.
Why it matters:AcuityAds gains meaningful footprint in the high-growth programmatic video advertising market. Pro-forma TTM Revenue for the combined organization exceeded CDN$75 million (US $56 million).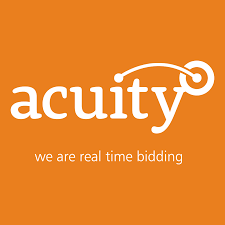 AcuityAds Holdings Inc. , a technology provider of targeted digital media solutions enabling advertisers to connect intelligently with audiences across mobile, video, social and display, has announced that it has entered into a definitive agreement to acquire Visible Measures Corporation ("Visible Measures"), a Boston-based programmatic platform provider for analytics-led video advertising.
It is expected that the acquisition of Visible Measures will help AcuityAds gain a more meaningful footprint in the high growth video advertising marketplace. Additionally, this transaction will provide AcuityAds with a strong foundation to capture a greater share of the high-potential, programmatic TV market.
According to eMarketer, the digital video advertising segment which topped $10 billion in the U.S. alone in 2016 is expected to approach US$20 billion by 2020 and by 2018, U.S. advertisers are projected to spend US$4.43 billion on programmatic TV ads.
By leveraging Visible Measures' patented video analytics toolset, alongside AcuityAds'media execution platform, marketers will have access to one single pane of glass to successfully manage all of their digital marketing initiatives.The Visible Measures platform is fueled by a proprietary dataset and patented programmatic technology that combines five trillion data points to reach more than 500 million unique monthly users across 600,000 web and mobile properties.  Utilizing these robust datasets and analytics tools, advertisers can optimize their ad spend based on competitive data collected in real-time, enabling these same advertisers to maximize ROI and boost market-share.  Since 2009, Visible Measures has collected data on over 22,000 video campaigns from 6,000 unique advertisers, and has studied consumer behavior from four trillion video views.  As a result, the Visible Measures True Reachâ (www.truereach.org) offering has become an industry recognized, MRC (Media Rating Council) accredited metric for video advertising campaigns.
The acquisition of Visible Measures is an all-cash transaction valued at USD $10 million.  For the year ending December 31, 2016, unaudited pro-forma trailing twelve months (TTM) revenue for the combined organization exceeded CDN $75 million.
"We are pleased to announce the second acquisition for AcuityAds in the last 6 months, this time, in the fast-growing video advertising segment," stated Tal Hayek, CEO of AcuityAds.  "The addition of Visible Measures and their industry leading video analytics technology is a great fit and complement to Acuity's Self-Serve programmatic marketing platform for marketers looking to leverage a 'one-stop' shop for all their digital marketing needs. We look forward to welcoming the Visible Measures team and their clients to AcuityAds as we strive to offer marketers the best solutions available to enable them to target and connect more effectively with their audiences across all channels and devices."
"Since our founding in 2005, our vision has always been to build the leading measurement and analytics platform to enable marketers to maximize the effectiveness of video advertising," stated Brian Shin, CEO of Visible Measures.  "It has been an amazing journey in building Visible Measures into the company that exists today with a blue-chip customer base and extensive partnerships and I am incredibly proud of the team and our accomplishments. I firmly believe that in joining AcuityAds, advertisers will gain access to the industry's most comprehensive suite of technology offerings to address their digital marketing needs more successfully."
Editorial Staff @portada_online
Portada Staff