What: IRI (Information Resources Inc.) has published the results of a new report revealing the most successful new product launches for Hispanics, as well as the top new natural brands for Hispanic shoppers.
Why it matters: The Hispanic community is the fastest-growing ethnic group in the nation and spends more than US $94.7 billion on CPG products annually.
The Hispanic community is the fastest growing ethnic group in the U.S. In the 1960s the Hispanic population constituted 3.5 % of the total population. By 2015 Hispanics accounted for 17.6% of the nation's population and were the second-largest racial or ethnic group behind whites. By 2065 the Hispanic population is estimated to represent one quarter of the total US population.
Hispanic buying power reached US $1.4 trillion in 2016, which makes them the most dynamic and fastest growing segment of the U.S. consumer economy. The top 3 US states where Hispanic buying power is concentrated the most are New Mexico, California, and Texas with 33%, 22%, and 20%, respectively.  
Breaking down Hispanics' CPG spending by language spoken, we find that bilingual Hispanics account for 42% of the total Hispanic population followed by Spanish-speaking Hispanics with 31% and English speaking Hispanics with 27%. Spanish-speaking Hispanics are more likely to be avid adopters of new products such as beauty, home care, healthcare and pet care products, while Bilingual-speaking Hispanics show more interest in food and beverage products.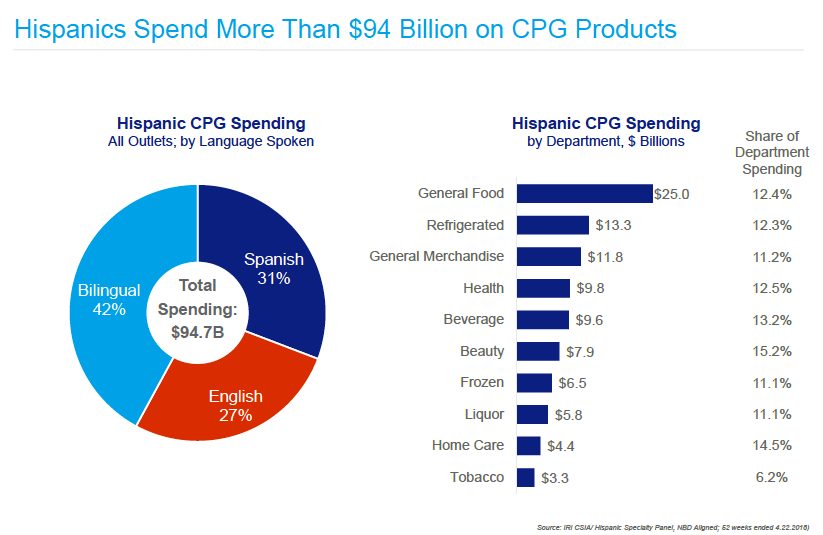 Understanding what Hispanics look for in new products is critical. For the Hispanic population healthy eating is important but moderation is key. The categories Hispanics spent more on are general food (US $25 billion), refrigerated US $13.3 billion) and general merchandise (US $11.8 billion). However, they only spent US $3.3 billion on tobacco. 
36% of the Hispanic consumers eat healthy 50% of the time and eat whatever they want the other half of the time, while the other 36% eat healthy 80% of the time and indulge the other 20% of the time. Regarding considerations in healthy eating, most English-speaking Hispanics avoid processed foods and try the right mix of different kinds of foods; as for the Spanish-speaking group, they prefer organic foods and include higher-calorie treats in moderation in their diets and the majority of bilingual-speaking Hispanics go for natural foods.
English speaking Hispanics seek easy-to-understand ingredients while Spanish-speaking Hispanics look for vitamins and minerals when choosing a product. The top considerations in food and beverage products for Spanish-speaking Hispanics are: contains vitamins/minerals, is fat-free and is dairy-free. Natural ingredients are a major consideration for Hispanics when considering new non-food products. The top three categories are: beauty/personal care, health and home care. 40% of pacesetter brands that hit the mark with Hispanics tout " More Natural," "Organic," "Herbal," or "Holistic" Attributes.
Spanish- speaking Hispanics look for new health products that offer longer-lasting relief and that offer new health benefits. English-speaking Hispanics prefer new products that provide faster relief, and bilingual-speaking Hispanics focus on health products that treat multiple symptoms and that appeal to many people in their household.
New beauty products that offer longer-lasting results are more appealing to Spanish-speaking Hispanics while English-speaking Hispanics go for products that offer better results, have ingredients that address their specific beauty goals and that offer anti-aging benefits.
In order to identify high-potential markets, it is necessary to understand where shoppers live and shop and what are their attitudes and behaviors that motivate purchase activity. These were the top-selling new products among Hispanics: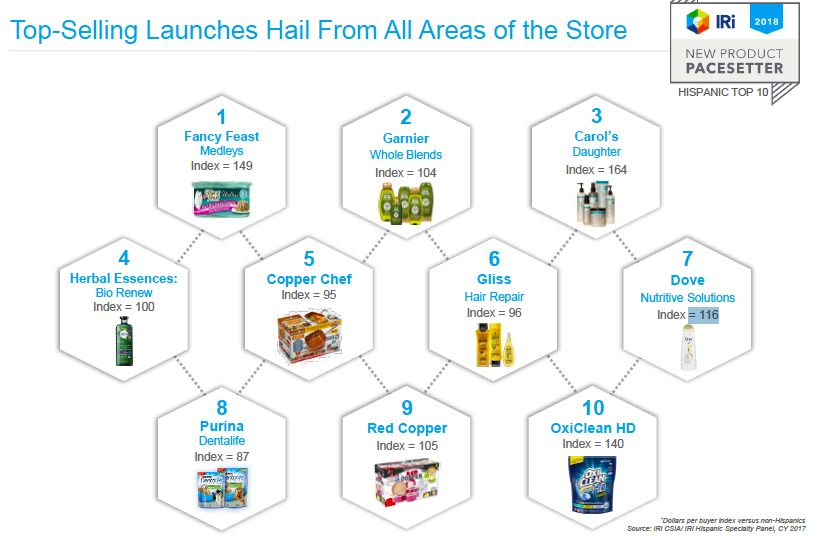 What: Despite the fact that Hispanics have adopted e-commerce at a faster pace than the general market, marketers are struggling to effectively target the demographic on e-commerce platforms and lack effective measurement tools for conversion and attribution.
Why It Matters: Hispanics as a whole represent $1.5 trillion in annual spending power, but few companies have proactively targeted them in the e-commerce realm. As shoppers increasingly head online to make purchases, some in the industry are predicting a "Hispanic targeting renaissance."
Today there are 55 million Hispanics with $1.5 trillion in annual spending power in the United States. They skew younger than your average demographic (80 percent are Millennials or younger), are digitally savvy and love shopping online after comparing prices and doing their research.
E-commerce in general is picking up steam across the country as people abandon physical stores in favor of the convenience of shopping online. According to a according to a report from the Grocery Manufacturers Association, in 2018, online sales of CPG products will hit $35 billion, up from $8 billion in 2013. And a Univision study found that Hispanics are a driving force in the adoption of online grocery shopping: 50 percent of Hispanic shoppers (and 60 percent of Millennial Hispanics) have bought a grocery item online in the past year, versus 40 percent of the general US market.
Now, marketers must untangle the behavior and preferences of an increasingly diverse demographic, and master the art of attribution and conversion across a purchasing journey that can involve multiple devices on and offline.
Get Ready for a Hispanic E-Commerce Renaissance
Lee Vann, the founder and director of Hispanic marketing agency Capture Group, emphasized that marketers should not be surprised that Hispanics are active on e-commerce sites, "as they tend to be more active across most Internet activities." The surprising thing is that until now, "few companies have proactively targeted Hispanics via e-commerce, despite a clear opportunity," Vann said.
Vann suggested that we may be on the brink of a Hispanic e-commerce renaissance, as retailers like Amazon increase their offerings for Hispanics. As the big players throw their hats in the ring, Vann suggested that we should "look to others to follow."
Few companies have proactively targeted Hispanics via e-commerce, despite a clear opportunity.
Katie Thomas, a Regional Manager at Bush Brothers, asserted that "large retailers are doing a better job of segmenting stores based on demographics (Latino, African American, etc.)," but that "it is one thing to identify these stores but another to actually market different products in these stores to meet consumer's needs." According to Thomas, "the retailers that are doing this will win in the marketplace."
E-Commerce a 'Double-Edged Sword' for Attribution and Conversion Models 
Some would assume that the increasing popularity of e-commerce among Hispanics means that marketers should have a wealth of data points from which to collect insight on their preferences and behavior. But Vann warned that "e-commerce can be a double edged sword when it comes to attribution and conversion models."
Cookies, for example, are one of the most popular tools for tracking consumers' purchasing journey. However, data has revealed that they are not always effective. According to Nielson OCR Norms, 58 percent of cookie-based measurement is overstated, targeting in cookie-based measurement is only 65 percent effective, and 12 percent of conversions are missed with cookie-based measurement.
Brands shouldn't be timid to drive consumers to e-commerce sites with cultural relevant and/or in-language advertising.
What's more, in a world where shoppers often start their journey online and end it offline or on a different device, it's hard to know whether the people looking at products online are actually buying. Last-click attribution models ignore the fact that many shoppers follow a windy path involving different devices and visits to physical stores before making an online purchase. "Marketers must look across the Omnichannel path to purchase and ensure they capture the impact of the digital channel on sales that may have started online but ended offline," Vann said.
Marketing strategist and consultant Daniel Villaroel emphasized that in this case, brands must take on the responsibility of experimenting until they get it right: "Optimization is always the responsibility of the brands to maximize sales.  It behooves them to see what works and what doesn't work."
He continued: "Brands shouldn't be timid to drive consumers to e-commerce sites with cultural relevant and/or in-language advertising." He added that instead of worrying about which language Hispanics are more comfortable speaking, brands should "test, see what works and optimize."
Brands Struggling to Implement Measurement Tools Effectively 
It isn't that brands are lacking measurement tools — it's that they themselves are not confident that they are using them correctly.
Bush Brothers' Thomas admitted that brands are still grappling with some of the most basic aspects of understanding Hispanic consumer behavior. "Bush uses measurement tools on our key brands but we have not done a good job of utilizing these when it comes to the Hispanic Shopper," Thomas said.
While location-based data is an effective tool for getting Hispanics inside a physical store, brands need more when it comes to e-commerce since they must put extra effort into understanding what specific products Hispanics want. Thomas elaborated: "Large retailers are doing a better job of segmenting stores based on demographics (Latino, African American, etc.), but it is one thing to identify these stores and another to actually market different products to meet consumer's needs," said Thomas.
This turns into a complicated task when one considers that Hispanic shopping patterns vary greatly based on factors like age and assimilation level. According to a recent report from ThinkNow Research, nearly a quarter of Bicultural Hispanics say they would go to another store to purchase their favored brand, while only 18 percent of less acculturated Hispanics said the same. That seven-point difference cannot be ignored when marketers are developing Hispanic e-commerce targeting campaigns.
For some marketers, it may start with accepting what they don't know. Think Hispanics are more loyal across the board? Think again. The same report by ThinkNow Research found that less acculturated Hispanics — those that have not fully assimilated into American culture —  are no more brand loyal than other segments. Bicultural Hispanics — those who are generally first  or second-generation Americans who identify with both the U.S. culture and their Hispanic heritage — are considered more loyal across several CPG categories.
Targeting: 'Not Doing Anything is the Primary Issue'
One thing is certain: this is a hugely powerful demographic, and retailers and brands must find a way to capitalize on the fact that Hispanics are making e-commerce a regular feature in their shopping routines.
According to Villarroel, "not doing anything is the primary issue," and that despite the fact that we are in the age of digital, brands are not delivering "micro-targeted content that's meaningful," and "sometimes content is still served up as a one size fits all." This means that retailers must aid brands in forming an accurate picture of the people visiting their e-commerce sites.
The savviest marketers will make Hispanic e-commerce part of their long term plans and ensure that their products are presented in a culturally relevant way.
Vann added that to connect with this attractive demographic, brands will have to come ready with "Spanish language product information and meta data, culturally relevant imaging and messaging, and proactive marketing to drive sales."
Brands looking to drive Hispanic e-commerce sales must start with forming a more complete picture of Hispanics, not just as consumers, but as people whose different experiences and cultures give shape to their decisions. "The savviest marketers will make Hispanic e-commerce part of their long term plans and ensure that their products are presented in a culturally relevant way," Villarroel said.
Join us at PORTADA Mexico!
What: PunchTab released the results of a study concerning how Hispanic shoppers engage in social conversation around loyalty and reward programs.
Why is it important: By understanding which loyalty program topics are most prevalent and how shoppers are engaging, marketers can implement pinpointed programs to increase engagement and amplify positive word-of-mouth at every stage of the purchase process (says Angela Sanfilippo, CMO at PunchTab).
Multi-channel loyalty and engagement platform PunchTab recently shared results concerning a study of over 500 Hispanic loyalty program members, offering valuable insights into how this high-value audience segment engages in social environments with reward programs (Sears Shop Your Way, Walgreen's Balance Rewards, for instance).
According to such study, about 19.3 percent of posts are pre-purchase, and the majority of the pre-purchase conversations revolve around wanting to join a loyalty program or waiting for approval.
Also, nearly two-thirds of Hispanic shoppers' social posts regarding loyalty programs (62.8 percent) take place after a purchase has been made, and surprisingly, as much as 20 percent of the conversation around loyalty programs comes from non-members.
Only 17.9 percent of posts happen as people are making purchases or receiving rewards, but still, the study reveals that this is high-value conversation, as the majority of such posts involve promoting savings received, free gifts and bonuses earned, or overall purchasing experience while using loyalty cards.
Hispanic shopper loyalty posts frequently tout the brand, the promotion or the rewards: positive word-of-mouth (30 percent), sharing promotions (12.1 percent), points or rewards awards (11.4 percent), advocating for the loyalty program itself (7.5 percent).
The study also reveals that over one-third of all the social conversation around loyalty programs is sparked by a brand's marketing campaigns and content. Brands' engagement campaigns (dedicated hashtags, contests, etc.) can spark a great deal of conversation around loyalty programs. This presents an enormous opportunity for brands to continue to raise awareness within the Hispanic market by way of timely social initiatives, such as holiday or back-to-school campaigns, that leverage social, email and SMS campaigns and encourage social sharing.
Says Angela Sanfilippo, CMO at PunchTab, that "almost half of Hispanic shoppers use social media during the purchasing process, and our research shows that many of these posts relate to loyalty programs."
Source: Market Watch.