What: MLS has announced a series of partnerships reflecting and promoting the diversity of its teams and fans.
Why it matters: More than any other league in North America, MLS thinks and act multilingual in almost every business action it has.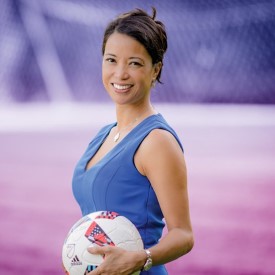 "For brands, Major League Soccer (@MLS) is the property that best reflects who North America is today."
That pretty heady statement by MLS SVP of Partnership Marketing Jen Cramer may make some skeptics roll their eyes (especially those heavily engaged in everything from the NFL and NBA to NASCAR and MLB), but as MLS kicked off a new season last weekend and into this week, the Don Garber (@thesoccerdon) led property is still on the upswing, especially for those looking to the multicultural marketplace that can deliver across all three North American countries and through the grassroots and into even more elite play like the U.S. men's and women's National teams. And for brands looking for engagement, MLS continues to be a growing, proactive and somewhat disruptive sweet spot, especially when you look at the key element not just of impressions, but of long term value add, at a pretty cost-effective price.
WHAT'S IN STORE FOR THE SPRING
Some of the highlights of the 24th season that will have broadcast partners ESPN (@espn) (which just added the Caribbean and Latin America to its growing list of MLS territories), FOX (@FOXSports), Univision (@UnivisionSports), TSN (@TSN_Sports) and TVA (@TVASports) as well as a growing partnership with Twitter engaged more than ever will include the addition of a 24th club, a new stadium in Minnesota, a new crop of dynamic players – including the South American player of the year, and a new playoff format that will further reward regular season performance. The league is coming off its most successful season in 2018 with record revenue for attendance, the debut of two new world-class venues in LA and Wash. D.C., record TV viewership, and the highest quality of play in league history; more than any other league in North America, it thinks and acts multicultural in almost every business action it has.
We have to always ask 'how do we create more value' and develop true partnerships, especially in a multicultural audience.
That multicultural impact is felt by everyone; from fans and players to brands and media partners.
"Our goal was and remains to create unique tie ins and campaigns with our partners for a diverse fan base that consumes the game of soccer in so many forms," Cramer added. "We know for that to work it has to be authentic to each group; you can't really fake it and hope it gets accepted. It must be a real engagement that makes sense to all involved, and that includes all we do in the multicultural space, especially as we market to a young bilingual Latino audience."
The examples extend beyond brand marketing and into the digital and promotional campaigns the league is rolling out. Their 2019 "Our Soccer" campaign is featuring Multi-Platinum Latin Superstar Prince Royce (@PrinceRoyce). The campaign, a big push to unite sports, culture, and entertainment, features an anthem that expresses the unique experience of being an MLS fan and the growth of the soccer movement in North America. It was produced in English, Spanish, and "Spanglish" (a fusion of English and Spanish), French-Canadian (for MLS fans in Quebec) and will run on MLS partner networks including ESPN, FOX Sports, Univision, TSN, and TVA Sports, and across international broadcast partner platforms, as well as the league's own digital channels.
The "Our Sound" spot, voiced by Prince Royce, features him wearing Inter Miami CF gear, the MLS expansion club co-owned by cultural icon David Beckham, while at a party watching a soccer game alongside Grammy-nominated producer and DJ TOKiMONSTA (@TOKiMONSTA), representing her hometown, featured wearing a Los Angeles Football Club jersey.
https://youtu.be/s4n55p7WOSQ
RAMPING UP DIGITAL
On the digital side, the MLS reinvestment includes expanding its relationship with Twitter, streaming its Univision game of the week, along with an expansion of utility and fan engagement touch points in the relaunched MLS app, most if not all of which will cater to a mobile savvy, and diverse audience. MLS's content production team also serves as the in house storytelling agency for many of its partners both on the brand and the media side, which helps streamline the engagement process for all.
"We have a young, savvy audience that enjoys very diverse and very unique content," added MLS Senior Vice President – Media Chris Schlosser. "It is our challenge and our responsibility to deliver that diverse content with ease of use to our fans however they would like it, and our growing and changing offerings reflect that need and where we can take it."
ENGAGING BRANDS
Then there are the brands and their engagement touchpoints, both in the community and directly with the team and its players, be it in venue, on broadcast or in the digital space.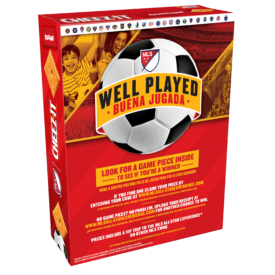 Leading the new initiatives is Kellogg's (@KelloggsUS), which will run a national campaign featuring bilingual packaging. The two-year partnership will have Cheez-It® and Pringles® as the league's official snacks, Eggo® will be given the designation as the official waffle, and Kellogg's will become a core partner of eMLS – MLS' competitive EA SPORTS™ FIFA 19 league. Cheez-It® and Pringles® will become presenting partners of the eMLS Player Lounge and the presenting partners of the 2019 eMLS Player Profiles, a digital series highlighting competitor's personal stories.
The wide-ranging partnership also features digital, video and content brand integration, in-stadium exposure, on-site activation at events, and a new sweepstakes where lucky fans have a chance to win a trip for two to the 2019 MLS All-Star Week in Orlando, along with other prizes. The campaign will include more than 20 million boxes on display during the season, taking the partnership direct to casual fans more than ever before.
"As MLS viewership and engagement rises in record numbers, our sponsorship gives Kellogg's and our retail partners a unique opportunity to reach the diverse Hispanic, Gen Z and Millennial audiences through their passions – soccer and gaming – with unique experiences," added Zion Doran, Senior Director of North American Promotions, Kellogg's.

Another expanded relationship for 2019 is with longtime partner Coca-Cola (@CocaCola), which will employ its new and innovative "Sip & Scan" technology via a national retail program with MLS Club and League marks featured on over 500,000 packages
Audi (@Audi) will also continue with its Audi Player Index, providing fans data and insights to illuminate discussion on the sport they love as well as other brand extensions both nationally and with ten clubs.
Join us at PORTADA LOS ANGELES on March 15, 2019 at the Loews Beach Hotel Santa Monica, where we will dive deep into sports and soccer marketing's preeminent topics. Attendees will also be able to benefit from Portada's meet-up service of three-eight-minute meetings with top brand executives!
Then there is Adidas (@adidas), in the first year of long-term partnership running through 2024. Looking to capture not just the multicultural soccer fan, the brand is working with MLS on fashion initiatives, featuring a Stadium to Street narrative, engaging with local creators/influencers to tie both soccer and culture together. The program will include both traditional media and digital activations, as well as programs featuring the ten markets the Adidas Creators Network is in, ranging from New York and LA to Portland, Seattle, and Toronto.
"We have always known that soccer and culture go way beyond the game and to have a partner like Adidas help us visualize that tie on a national scale with such diversity of thought and content is really unique, and compliments all we are trying to do to drive fandom and the love of soccer to everyone," Cramer said.
Another key expansion of growing the culture of MLS tied to brands is the partnership with JLab Audio (@JLabAudio), the league's wireless headphone and speaker provider. Players, starting with DC United's Wayne Rooney, will create an MLS x JLab Player Playlist program that will feature a once-a-month playlist that will be supported across MLS and partner channels. The playlist will reflect the diversity of the league and will be a big boost in connecting casual fans to some of the league's most unique personalities through the medium of sound.
Those partnerships, in addition to evolving existing partnerships with companies like Heineken, The Home Depot, Wells Fargo and AT&T, as well as localized expansion with brands through new deals, like kits sponsorships (Chicago Fire – Motorola, Houston Dynamo – University of Texas MD Anderson Cancer Center, Seattle Sounders – Zulily and FCC – Mercy Health ) all continue to paint a robust, aggressive and proactive picture for MLS heading into a landmark season, especially for a league that has the highest preponderance of millennial (39%), Hispanic (34%) and female (41%) fans in North America.
POISED FOR A BIG YEAR
"Our fans and our brand partners are just like our players, they demand excellence," Cramer concluded. "We have to always ask 'how do we create more value' and develop true partnerships, especially in a multicultural audience. We want to keep building relationships that are solution based and really set us apart, and we think that these initiatives, as well as ones to come, are helping us get there."
"There" is a continued bright future for MLS as a quarter century approaches, new stars and stories keep being refined, and soccer brand marketing rises across this spring and summer.
Subscribe to Portada's weekly Sports Marketing Updates!
[ctalatinb]