AT&T, Taco Bell, Estrella Jalisco, Estrella Insurance… and other brands targeting the U.S. consumer right now. Check out our prior Sales Leads columns.
With the World Cup in Qatar already going for a week, millions are streaming the action over smart TV's, phones, tablets, and more. An AT&T campaign is bringing to life how AT&T Fiber powers everyone in the family, no matter how they connect to all things World Cup. The campaign started running on Sunday, November 20 and continues throughout the tournament across broadcast, digital and audio platforms. The TV spot (see below) is in support of the official sponsorship of the Mexican National Team. Creative was produced by Dieste and media buying was done by Hearts & Science.

The Christmas sweaters in the TV spot were a focal point – coincidentally playing off El Tri's uniform colors + traditional holiday colors of red, green, and white. The number 5 on the sweaters is a nod to both AT&T Fiber's 5-Gig speeds, and also represents the hope for the Mexican National Team to break the curse of not being able to play in the mythical 5th game of the World Cup. "This campaign celebrates this unique and rare moment of the combined global celebrations that are the World Cup and the holiday season," an AT&T spokesperson told Portada. "Hispanics lead the way in technology adoption and have more devices connected in their homes than non-Hispanic consumers. On average Hispanic's have 7 devices connected in the home at any given time. This means Hispanic families have a greater need for faster internet speeds that suit the lives and aspirations of each individual family member," the spokesperson added.
Taco Bell is showing up and showing out for the culture that has inspired the brand since day one – Latin culture. The brand launched a campaign that takes inspiration from, celebrates and heavily features the Latin community while highlighting their passion for food and soccer. The commercial, "Donde We All Play," is born out of the brand truth that Taco Bell is a place for people to come together, be who they are, eat, play, and hang out. Providing the soundtrack for the commercial, Taco Bell partnered with Niña Dioz, Mexico's first openly queer rapper who's been breaking barriers in a world that's predominantly straight and male. The spot serves as the official release of her new song, "Siéntelo," which is about moving forward and pushing the boundaries, feeling the energy rising up when you share your passion with others, not being afraid to start over and keep fighting, all because you have the people you love with you – encapsulating the essence of the Taco Bell campaign. The commercial is running on FOX Sports and Telemundo until December 18, 2022. The ad is also running on CTV channels, including Peacock & T+, Peacock and FSGO.  "Donde We All Play" is built on the brand truth that Taco Bell is a place for people to come together, be who they are, eat, play and hang out. As a Mexican-inspired brand, we wanted to authentically celebrate the culture that's inspired Taco Bell since day one and engage with the multicultural consumer that's now inspiring us today. Through and through, this film is filled with Latin excellence from the cast and crew, which include professional soccer player Ashley Sanchez, L.A. streetwear brand Paisa Boys and Mexican-Japanese model and content creator Genai Nakama, to the track, which is a newly released single from Mexico's first openly queer rapper Niña Dioz. As we continue to evolve our brand, we're excited to continue connecting with, investing in and celebrating Latin culture," said Sean Tresvant, Chief Brand Officer of Taco Bell.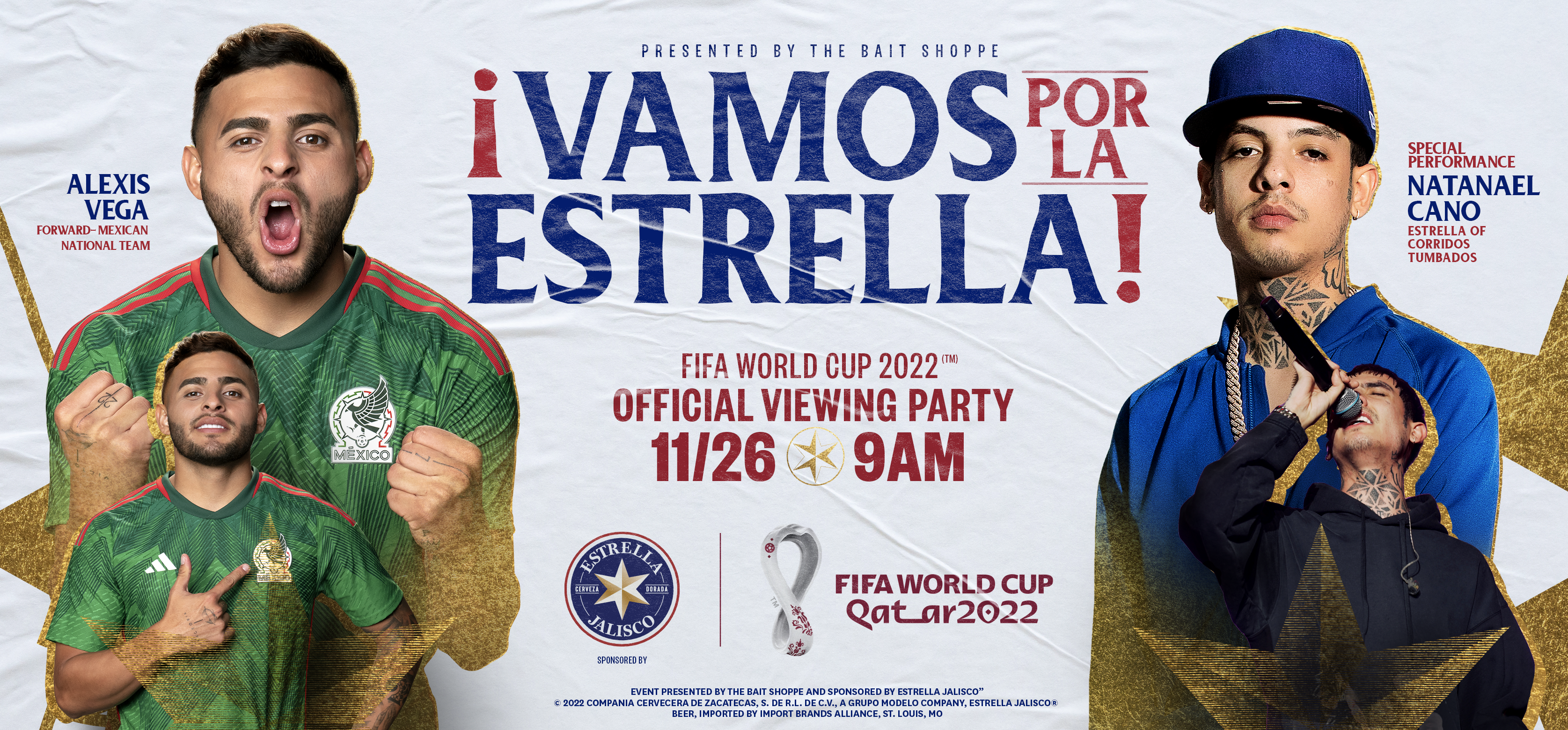 Anheuser-Buschs's Estrella Jalisco is partnering with Mexico National Team player Alexis Vega to encourage U.S. fans to attend "Vamos Por La Estrella" viewing parties across the country. Since the start of the FIFA World Cup 92 years ago, only three Latin American countries have won the highly coveted championship: Brazil, Argentina and Uruguay. This year, Estrella Jalisco, the Mexican lager with over 100 years of brewing tradition, wants to bring fans together to celebrate the pursuit of Mexico's first championship, and its first "Estrella," at three "Vamos Por La Estrella" events. With a fanbase of 60 million in the United States alone, the Mexico National Team has the most engaged and passionate fan base of any soccer league in the world. That is why Estrella Jalisco is partnering with Mexico National Team player Alexis Vega to invite fans to cheer for Mexico's victory at this year's World Cup at one of three "Vamos Por La Estrella" viewing parties across the country. Last Saturday, November 26, the day Mexico played against Argentina in Qatar, Estrella Jalisco simultaneously sponsored three epic, live, outdoor "Vamos Por La Estrella" watch parties in Los Angeles, Phoenix, and Dallas with a total combined capacity of 11,000 fans. Events had beer, live music, DJs, big screens, food trucks, giveaways, and special guest appearances and performances. "The World Cup is more than just a major sporting event; it is a time for passionate soccer fans to come together, feel connected and celebrate each of their unique cultures," says Stephanie Salvador, Senior Brand Director at Estrella Jalisco. "As a beer that seeks to elevate the authentic Mexican experience, we feel the World Cup is a perfect opportunity to give these fans the experience of a lifetime as they root on their team."  Read about Estrella Jalisco's two-pronged approach to marketing.
At this exclusive event on April 13, 2022 , Brand Decision Makers and Marketing Service Suppliers will share and accelerate knowledge on key topics including multicultural marketing, e-commerce marketing, and leveraging marketing technologies. To find out about networking solutions at Portada Live involving a myriad of brand decision-makers, please contact Sales Coordinator Michelle Lopez at michelle@portada-online.com.
Miami-based Estrella Insurance, a property and casualty insurance agency franchisor, announced its launch into the Dallas-Ft. Worth (DFW) and Houston markets with more than 20 territories awarded. The company, which operates more than 180 locations across Florida, California, Arizona, and Colorado, now adds Texas to its growing national expansion, which is centered on providing simple, cost-effective insurance solutions across its auto, home, commercial, business, life, and health portfolios. According to CEO Nicolas Estrella, Jr., Estrella is primed for continued growth, with DFW and Houston being their "biggest bets,", particularly with the company's strong connection to and expertise in the Hispanic market. In 2021, Estrella saw double-digit growth of more than 15% in premiums, leading them to surpass the US $500 million in system-wide premiums mark for the first time in the organization's 40-year history. This year, Estrella is on pace to exceed US $600 million. Estrella, Jr. adds that the independent, family-owned organization aims to open 70 territories in DFW and 60 in Houston over the next five to seven years. With more than 175 offices across the U.S., Estrella Insurance is consistently ranked as a top franchise opportunity with a proven business model that allows owners to focus directly on customer support and community engagement. For more information on franchise ownership, visit www.estrellafranchise.com
Crypto exchange and digital assets trading platform Bitget announced a series of marketing campaigns with Lionel Messi, the Argentinian Football legend, with the launch of the brand film to celebrate the 2022 World Cup. With a US $20 Million investment in campaigns and rewards, Bitget aims to benefit users with attractive rewards, help enhance market sentiment and reignite confidence in the crypto industry.