What: IRI (Information Resources Inc.) has published the results of a new report revealing the most successful new product launches for Hispanics, as well as the top new natural brands for Hispanic shoppers.
Why it matters: The Hispanic community is the fastest-growing ethnic group in the nation and spends more than US $94.7 billion on CPG products annually.
The Hispanic community is the fastest growing ethnic group in the U.S. In the 1960s the Hispanic population constituted 3.5 % of the total population. By 2015 Hispanics accounted for 17.6% of the nation's population and were the second-largest racial or ethnic group behind whites. By 2065 the Hispanic population is estimated to represent one quarter of the total US population.
Hispanic buying power reached US $1.4 trillion in 2016, which makes them the most dynamic and fastest growing segment of the U.S. consumer economy. The top 3 US states where Hispanic buying power is concentrated the most are New Mexico, California, and Texas with 33%, 22%, and 20%, respectively.  
Breaking down Hispanics' CPG spending by language spoken, we find that bilingual Hispanics account for 42% of the total Hispanic population followed by Spanish-speaking Hispanics with 31% and English speaking Hispanics with 27%. Spanish-speaking Hispanics are more likely to be avid adopters of new products such as beauty, home care, healthcare and pet care products, while Bilingual-speaking Hispanics show more interest in food and beverage products.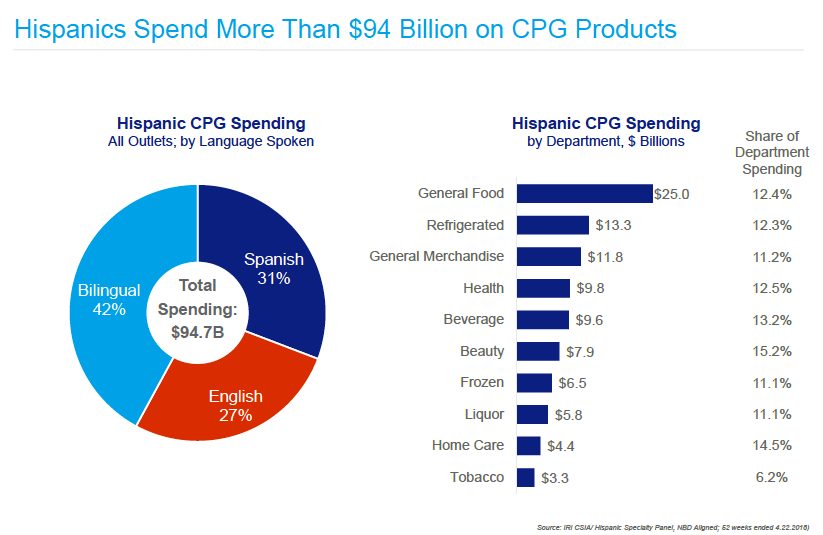 Understanding what Hispanics look for in new products is critical. For the Hispanic population healthy eating is important but moderation is key. The categories Hispanics spent more on are general food (US $25 billion), refrigerated US $13.3 billion) and general merchandise (US $11.8 billion). However, they only spent US $3.3 billion on tobacco. 
36% of the Hispanic consumers eat healthy 50% of the time and eat whatever they want the other half of the time, while the other 36% eat healthy 80% of the time and indulge the other 20% of the time. Regarding considerations in healthy eating, most English-speaking Hispanics avoid processed foods and try the right mix of different kinds of foods; as for the Spanish-speaking group, they prefer organic foods and include higher-calorie treats in moderation in their diets and the majority of bilingual-speaking Hispanics go for natural foods.
English speaking Hispanics seek easy-to-understand ingredients while Spanish-speaking Hispanics look for vitamins and minerals when choosing a product. The top considerations in food and beverage products for Spanish-speaking Hispanics are: contains vitamins/minerals, is fat-free and is dairy-free. Natural ingredients are a major consideration for Hispanics when considering new non-food products. The top three categories are: beauty/personal care, health and home care. 40% of pacesetter brands that hit the mark with Hispanics tout " More Natural," "Organic," "Herbal," or "Holistic" Attributes.
Spanish- speaking Hispanics look for new health products that offer longer-lasting relief and that offer new health benefits. English-speaking Hispanics prefer new products that provide faster relief, and bilingual-speaking Hispanics focus on health products that treat multiple symptoms and that appeal to many people in their household.
New beauty products that offer longer-lasting results are more appealing to Spanish-speaking Hispanics while English-speaking Hispanics go for products that offer better results, have ingredients that address their specific beauty goals and that offer anti-aging benefits.
In order to identify high-potential markets, it is necessary to understand where shoppers live and shop and what are their attitudes and behaviors that motivate purchase activity. These were the top-selling new products among Hispanics: