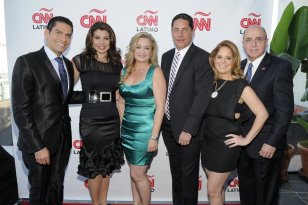 CNN Latino, the Spanish block programmed exclusively for the U.S. Hispanic market, has signed an affiliation agreement with KPDR Partners to begin airing on KPDR-LD 19 in Salt Lake City. The agreement calls for KPDR-LD to broadcast CNN Latino's block from 3-11 PM and from 4-12 PM (MT).
Channel 19 is a low-power television station and Salt Lake City's newest television station. KPDR, "K-Powder" broadcast free over the air on digital channels 19.1 through 19.6, serving the Salt Lake City Valley and the Wasatch Front. According to Nielsen's 2012-2013 Hispanic or Latino TV homes Universe Estimates, the Salt Lake City market ranks 31st in the country with 95,370 Hispanic Households.
With the expansion into Salt Lake City, CNN Latino now reaches about 30% of U.S. Hispanic households, and according to svp and general manager of CNN en Español, Cynthia Hudson, the network "is in discussions with other affiliates in other Top 10 markets, and hope to make those announcements in the coming months."
CNN Latino is already available in Los Angeles, New York, Orlando, Tampa and Phoenix.