What: Nielsen has published its quarterly report of overall media usage across linear and digital platforms, and across ages and ethnicities.
Why it matters: Insights like Nielsen's can help understand the fragmented media landscape, as well as how the myriad of available options shapes consumers' behavior while forcing marketers and advertisers to produce tailored experiences.
Today's media landscape is more fragmented and fast-paced than ever. As Peter Katsingris writes in the introduction to Nielsen's latest Total Audience Report, as consumer choices increase, media behavior shifts, and at the same time, our complicated new lifestyles beg for better technologies. Because consumers are able to customize their media usage in a unique way; Nielsen's insights cover consumers' access to devices and services, both traditional and digital, as well as usage across ages and ethnicities. Here's a summarize of the most important insights in the study.
Get tickets for Portada New York and be a part of the panel IF CONSUMER TIME IS THE CURRENCY FOR ADVERTISING, WHAT DOES IT TAKE TO GET MORE OF IT?, by Seraj Bharwani, CEO & Founder of Acuity Ads.
Which entertainment devices are used the most?
According to the study, nine out of 10 US adults use linear platforms in the average week. Interestingly, radio has the highest reach across platforms with 92% of total surveyed adults and 96% of Hispanic adults tuning in each week. Live+Time-shifted TV viewing, on the other hand, reached 88% of persons in Q1 2018. Over a third of persons use their internet-connected devices (including smart TVs) during the average week, with a higher reach of 43% for Asian Americans. Computer reach is highest with Asian Americans as well, with 71% using the device weekly. Regardless of race or ethnicity, smartphones remain universally popular, reaching four out of five adults while tablets are used by less than half of all adults weekly.
How much time do they spend online?
As the table below shows, US adults are spending over 11 hours, nearly half a day, connected to linear and digital media. These days, all listening, watching, and reading activities are carried out online. According to Nielsen's data, time spent across all media in Q1 2018 increased 19 minutes from the prior quarter, an increase that is driven by more time on TV-connected devices (+5 minutes) and on digital platforms (+13 minutes).
It's worth mentioning that seasonality plays a role with quarterly television usage trends, particularly as people transition from holiday breaks and sporting events, such as the Olympics and the Super Bowl. Digital usage across computer, smartphone, and tablet continue to play a growing role with the adult U.S. consumer. In Q1 2018, three hours and 48 minutes a day were spent on digital, with app/web usage on smartphone accounting for 62% of that time.
Who spends more time on each device?
Young adults 18-34 spend the largest percentage of time with TV-connected devices and digital devices compared to other demographics. Media usage varies by demographic—not only by total time spent, but also in the distribution of time spent across media platforms. Older people tend to lean more on traditional mediums, while younger generations are often early adopters of new technology. For instance, in Q1 2018, younger adults (18-34) spent less than nine hours a day as compared to older adults (50+) who spend over 12 hours a day with content across platforms.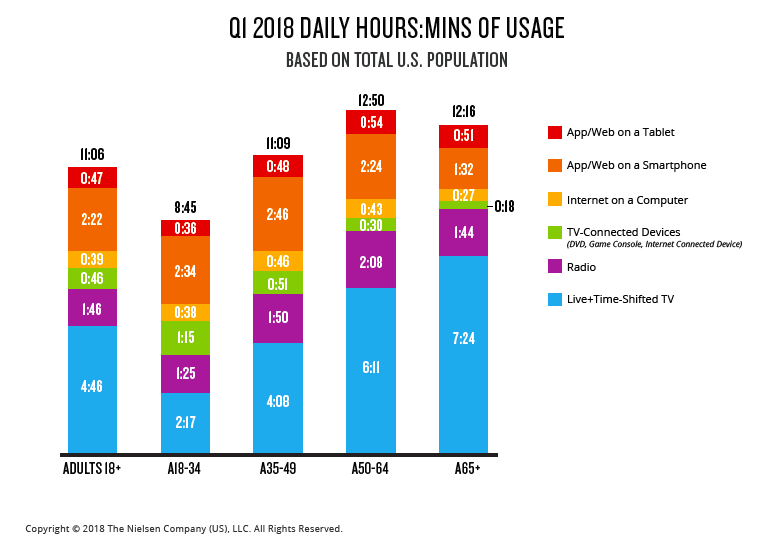 What are multicultural consumers doing?
Black adults are the heaviest users of media overall. Compared to overall US, Hispanics listen to more radio, and Asian Americans spend more time with computers and tablets. The ethnic landscape of the US is rapidly changing, with more diverse younger generations. While every individual has personalized media habits, Black adults 18+ on average consume nearly thirteen and a half hours of media per day, almost two-and-a-half hours more than the average adult. Hispanics consume less overall media on average, but do listen to more radio and have higher time spent on game consoles and internet-connected devices. Asian American adults spend more time on their computers and tablets than any other group.
How does age determine media behavior?
Two-thirds of U.S. TV households have devices capable of streaming content to the TV set. Users' preferences for streaming devices also changes with age. Fifty percent of streaming by teens is done through a game console, whereas for kids 2-11 and adults 18+ streaming is mostly done through internet connected devices or smart TVs. Nearly half of all video streaming by adults 35-4 9 comes through internet-connected devices, while adults 50+ have a higher percentage of their streaming on smart TVs.
[ctalatinb]