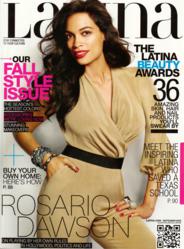 Latina Media Venture is launching Latina Extra, a mobile companion app that makes the magazine reading experience more engaging for consumers. The mobile app, built by mobile marketing and technology services company, Nellymoser, is launching with the September issue of Latina and will be a mainstay of the magazine experience going forward. The app is available immediately for iPhone and Android devices.
The LATINA EXTRA mobile companion app contains a built-in universal scanner that can scan special LATINA-branded icons encoded with Digimarc digital watermarks, as well as QR codes, Microsoft Tags and UPC codes in the magazine. When a branded icon is scanned, LATINA EXTRA delivers access to exclusive content, promotions and special events. Special companion app reader features include the Hot Stuff entertainment guide, continued coverage of the 2012 LATINA Beauty Award Winners, and access to a special voting service, VotoLatino, that makes it easy for consumers to register to vote and stay abreast of upcoming elections.
For the Latina Extra mobile app launch, Olay is sponsoring the Behind the Cover video with Rosario Dawson. Herbal Essences, a second major sponsor, is offering 30 days of mobile tips and a sweepstakes for a weekend for two in Las Vegas.
"Latina Extra really enhances our brand and provides more value for our readers. It offers a unique blend of content – entertainment, beauty, in-depth articles, exclusive deals, and more – to deliver a rich consumer experience on a mobile phone," said Lauren Michaels, President of Latina Media Ventures. "We're excited to give our readers more of what they love about the Latina brand, right at their fingertips."
"LATINA EXTRA exemplifies how mobile-activated print brings magazine to life with interactive content such as sweepstakes, videos, and print-to-social capabilities," said John Puterbaugh, Founder and CEO of Nellymoser. "Magazines are increasingly using mobile companion apps to create deeper connections with their readers and provide a platform for integrating their brand across print and digital."