Changing Places LatAm: Ben Saitz, Alvaro Palacios, Rodrigo Grau, Rodrigo John…
People change positions, get promoted or move to other companies. Portada is here to tell you about it.
 ::: Rocket Fuel - Ben Saitz ::: IBT Media - Alvaro Palacios ::: Rodrigo Grau - JWT Brazil, Ricardo John - JWT Latin America :::  Room Mate Hotels - Felip Boyero ::: SES S.A. - Clemente Cabello  ::: Sebastian Graccioli , Diego Gueler Montero - R / GA Buenos Aires ::: VLM Brazil - Silmo Bonomi, Andrea Cotrim, Jairo Anderson and Wellington Ferreira ::: Gonzalo Fonseca - Young & Rubicam Argentina :::
Click here for previous Latam Changing Places editions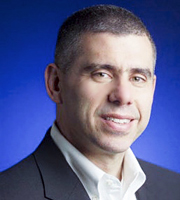 In the US, artificial intelligence-driven marketing platform Rocket Fuel has hired former Google and DoubleClick CEM exec Ben Saitz for a new role, Chief Customer Officer. Saitz (pictured) joins from customer experience management firm Medallia, where he served as VP, Customer Solutions.In his new role, Saitz will lead all post-sales functions as the company aims to put its customers at the heart of its business.
Rodrigo Grau will join JWT Brazil as CCO and Ricardo John as chief creative officers for JWT Latin America, AgencySpy reports. Both Grau and John will lead creativity for the Brazil office and the entire South America region.
Grau comes from agency David Sao Paulo, where he has served as creative vice president since January of 2015. Prior to joining David, he served as executive creative director at BBDO Argentina for seven years.
In an effort to further support its expansion in North and Latin America,Room Mate Hotels has appointed Felip Boyero Managing Director of the Americas and launched its first headquarters for the region in Miami, FL.In this newly created role, Boyero will lead Room Mate Hotels' expansion into new markets including Los Angeles, Chicago, San Francisco and Boston, while further developing the brand's infrastructure in destinations where it is already present including New York City, Miami and Mexico City.
SES S.A., a satellite operators, has announced the appointment of a new Vice President, Commercial, for Latin America/North. Clemente Cabello will be based in Mexico City and will be responsible for leading SES's commercial activities in Mexico, Central America and the Caribbean. He comes to SES with more than fifteen years of experience in the satellite industry.
Sebastian Graccioli and Diego Gueler Montero have joined agency R / GA Buenos Aires' creative department, which is led by Mariano Jeger, VP Executive Creative Director. Both Graccioli and Gueler Montero come from Grey Argentina, where they have been serving as creative directors for the last couple of years.
Prior to Grey, Graccioli worked for Ponce Buenos Aires, handling  brands such as Rexona, Axe, Impulse, Stella Artois and Temaikén.
Gueler Montero began his career at Young & Rubicam and later joined Del Campo S&S.
Silmo Bonomi, ECD at agency VML Brazil, is moving to the agency's New York branch to held the same position, according Adlatina.Bonomi  will be ECD for the International Olympic Committee account in NY. Bonomi joined VLM Brazil 4 years ago.
He will be replaced Andrea Cotrim, Jairo Anderson and Wellington Ferreira, who were all promoted to integrate the creative executive directors team at VML Brazil.
Ferreira and Anderson joined the agency in 2012, while Cotrim joined VML almost a year and a half ago.
Gonzalo Fonseca is the new head of Planning at Young & Rubicam Argentina, according to Adlatina. Fonseca comes from Havas Media, where he served as Director of Planning & Integration.
---
Editorial Staff @portada_online
Portada Staff