Madelin Bosakewich leaves Televisa Publishing and Digital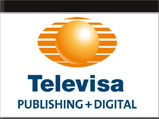 Madelin Bosakewich has left Televisa Publishing and Digital in Miami where she worked as U.S. Regional Sales Manager overseeing Televisa Publishing and Digital's Sales Team. Sergio Carrera, Director General USA & Puerto Rico at Televisa Publishing and Digital tells Portada that he will be taking over Bosakewich's duties until a new executive is hired to replace her.
Televisa Publishing and Digital promotes and sells advertising into the print and digital properties of Vanidades, TV y Novelas and Cosmopolitan en español for the U.S. Hispanic market, Puerto Rico and panregionally (Latin America).
---
Editorial Staff (@portada_online)
Portada is the leading source of news and analysis on the Latin Marketing and Media space. Credibility is our biggest asset: The Portada team is very passionate about producing high-quality independent content that helps drive forward the Latin Marketing and Media space.
El equipo editorial de Portada se apasiona por elaborar contenidos de alta calidad. La credibilidad es nuestro mayor activo. La misión de Portada es ayudar a profesionales de negocios y medios a comprender y alcanzar a consumidores latinoamericanos, del mercado hispano de EE UU y España.